Cost All On 4 Dental Implants
Are you tired of dealing with uncomfortable dentures that slip and shift? Do you find yourself restricted by the demands of high maintenance and food limitations? If so, you're not alone. Thousands of people in the US have chosen to invest in All-On-4 dental implants as a long-term solution to these difficulties. But how much does this procedure actually cost?
The Affordable Solution
Typically, restoring a full arch of teeth requires six to eight implants, which can be quite costly, ranging from $35,000 and up. However, the All-On-4 procedure offers a more affordable and permanent solution. By strategically placing four dental implants, an entire upper or lower arch of teeth can be supported. And the best part? It often costs less than $25,000!
Factors Affecting Cost
The cost of All-On-4 dental implants can vary based on several factors, including:
Diagnostic tests: The health assessment before the procedure may include X-rays and CT scans.
Teeth type: The brand and type of teeth used can affect the overall cost.
Restoration quality: The customization and quality of the fixed bar teeth restoration play a role in pricing.
Medical professionals and locations involved: Having everything done in one place can be more cost-effective.
Dentist expertise: The skills and experience of your implant dentist or oral implantologist can impact the cost.
Location: The cost of living in your area may influence the total price.
It's important to note that dental insurance may not cover the entire cost, as some companies consider dental implants to be a cosmetic procedure. Additionally, be cautious of substantial discounts, as the use of non-FDA approved dental implants may result in complications and difficulty finding a qualified dentist for repairs.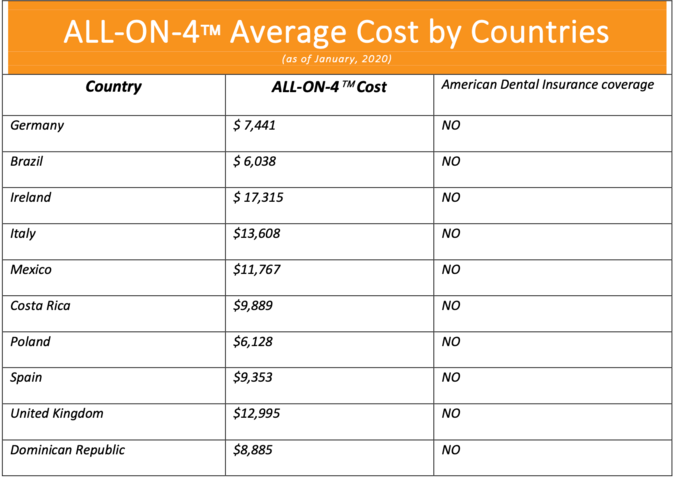 The Procedure and Recovery
The All-On-4 procedure involves placing two implants at the front of the arch and two on each side, tilted at a 45-degree angle. This innovative technique maximizes the use of available bone and allows for the support of a full arch of teeth. A temporary fixed bridge is created before the surgery and can be modified to ensure a personalized fit immediately after implant placement.
Although the temporary teeth are functional, it's crucial to remember that they are not the final restoration. Your implants will need time to heal and integrate with the jawbone. After three to six months, your dentist will replace the temporary teeth with a stronger and more comfortable permanent implant-supported fixed bridge.
The Benefits Outweigh the Risks
While any oral surgery carries some risk, All-On-4 dental implants have a success rate of around 95%. Proper cleaning and regular check-ups can minimize potential problems. Dental implants offer numerous advantages, such as preserving jawbone health, improved comfort, enhanced diet, increased self-confidence, and a more youthful appearance.
The Financial Consideration
The cost of All-On-4 dental implants for a full mouth is estimated to range from $24,000 to $28,000. However, the average cost reported by providers across the US is approximately $50,000. Dental insurance may help cover some of the expenses, but it's essential to review your plan's coverage. Plans typically have an annual reimbursement limit ranging from $1,500 to $2,500.
Make Your Smile a Priority
At Make You Smile, we understand the value of a confident smile. If you're located in Fort Lauderdale, Florida, we offer monthly payment plans to make All-On-4 dental implants more affordable for our patients. We also accept major credit cards and collaborate with dental financing companies like Lending Club and CareCredit.
Visit Make You Smile today to schedule an appointment and take the first step towards a brighter future with All-On-4 dental implants.
Frequently Asked Questions
Are full mouth dental implants worth it?
Absolutely! Dental implants provide the closest resemblance to natural teeth, preventing bone resorption and restoring the natural look and feel of your smile. Patients often experience increased confidence and improved quality of life. While the cost and time investment may seem significant, the long-term benefits make it worthwhile.
Can I make payments on full mouth permanent denture implants?
Yes! At Make You Smile, we offer various payment options, including in-house financing and partnerships with CareCredit and LendingClub. These options ensure that our patients can afford full mouth dental implants, even without insurance coverage.
How much does insurance pay for All-On-4 dental implants?
Insurance coverage for All-On-4 dental implants varies depending on your policy. In most cases, coverage is minimal. It's important to review your specific insurance plan to determine what is covered. Our benefits coordinator can aid in maximizing your benefits and assisting with insurance paperwork.
How can I get insurance to pay for full mouth dental implants?
While insurance coverage for full mouth dental implants may vary, some plans cover certain aspects of the procedure, such as tooth extraction. It's crucial to thoroughly review your insurance policy and discuss coverage options with your provider. Our benefits coordinator can assist in maximizing your insurance benefits.
How can I get full mouth dental implants without insurance?
If you don't have insurance, there are still options available to make full mouth dental implants accessible. Third-party lenders like CareCredit and LendingClub offer financing options. Additionally, Make You Smile provides interest-free, in-house financing to accommodate patients without insurance.
Dental Implant cost in Fort Lauderdale
For more information about All-On-4 dental implant costs and to discover the possibilities for your smile, click here.