Are you looking for high-quality dental restorations and implant prostheses in New York? Look no further than Schweitzer & Schweitzer, PC. As prosthodontists, we understand that the final result is only as good as the craftsmanship behind it. That's why we have our own onsite dental laboratory, where our experienced master ceramists create beautiful, customized restorations that adhere to the highest standards of excellence.
Providing Dental Laboratory Services for Other New York City Practices
In addition to serving our own patients, we also extend our dental lab services to other practices in the area. Our precision, esthetics, pricing, and consistent reliability make us the go-to choice for dental professionals who value top-notch craftsmanship. If you're interested in partnering with us to benefit from our broad spectrum of dental laboratory services, don't hesitate to get in touch.
Creating Top-Quality Restorations
Achieving the best outcomes in restorative and esthetic dentistry requires not only skilled prosthodontists but also top-quality materials and fabrication techniques. Our master ceramists specialize in creating a variety of restorations that look exceptionally natural, including porcelain veneers, crowns, bridges, inlays, onlays, dentures, and dental implant prostheses. By using strong and durable materials, we're able to perform more conservative procedures that preserve healthy tooth structure while providing long-lasting results. Plus, these innovative materials offer cosmetic properties that closely mimic the appearance of natural teeth, giving you a smile you'll be proud to show off.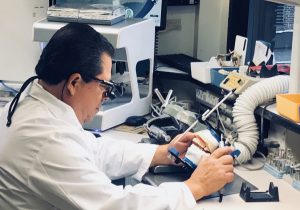 Choosing the Right Restorations for You
We understand that every patient is unique, which is why we take the time to thoroughly assess your dental concerns and design a personalized treatment plan. Your prosthodontist will carefully explain all of your options for restorations, discussing the benefits and drawbacks of each. We want you to make an informed decision, ensuring that your final restorations meet or exceed your expectations.
The Benefits of Our Dental Lab: Quality, Convenience, and Consistency
At Schweitzer & Schweitzer, PC, we believe that our onsite dental lab enhances the quality, convenience, and consistency of our practice. With our lab right on-site, there's no need to wait for restorations to be sent back and forth to an off-site facility. You can expect timely delivery of your final restorations, saving you valuable time. Additionally, any adjustments or repairs can be done quickly and conveniently. Our prosthodontists rely on the reliability of our onsite lab to consistently deliver excellent results that our patients can enjoy.
If you have any questions about our onsite dental lab or if you'd like to schedule a consultation with one of our prosthodontists, please don't hesitate to contact Schweitzer & Schweitzer, PC. We're here to make you smile!