Best Place To Sell Dental Gold
Sell your dental gold crowns and white palladium based crowns to us! We buy dental gold crowns for a very reasonable and competitive price. Your dental gold crown contains enough precious metal content to make it valuable.
Dental crowns, bridges, and gold fillings have a value that could plenty of cash. if you have many of them stashed in your dental office, start selling them to us now! The worth of your old dental crowns depends on the amount of gold it contains. Also, its weight and the type of alloy used, factoring its value. If it contains precious and semi-precious metals, we would pay more for it.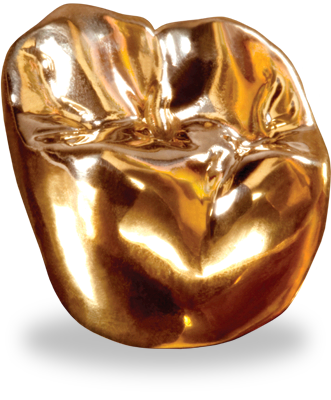 Just because your dental crown is old and damaged doesn't mean that they are useless. They may contain valuable gold, silver, platinum, and palladium. People with gold dental crowns get them replaced periodically and throw their old ones. Sell dental gold to us now and discover how it can give you a worthwhile return. We accept:
Gold crowns with or without roots
Bonded crowns with or without roots
Bridges
Inlays
Platinum foil
How it works
These steps will help you understand how you can sell your silver jewelries to us. Make sure you follow these instructions.
1) Request a label or pack
The first step towards redeeming your silver value is to prepare your Mailer. If you request a mailer, we'll send you a Cash for Gold Mailer through the mail, complete with a prepaid FedEx shipping label. Preparing your mailer couldn't be easier
If you already have a package you can mail your jewelry in, simply request a free, prepaid FedEx mailing label that you can print instantly and attach to your package. Whichever method you choose, you'll receive a tracking number that will allow you to track your package online and monitor the offer process.
2) Gather your valuables and mail them
Once you've got your prepaid mailing label and package, you'll need to gather up the jewelry and valuables you're interested in a price on, securely package them, and then ship your mailer in the most convenient FedEx location. Since it's prepaid and insured, you'll simply need to put it in the dropbox or hand it to the shipping attendant.
3) Accept or reject your offer online
When your package arrives at our facility, we'll analyze and test its contents, determine what we can offer for each piece, and post our offer to your secure account area on our website. You'll be notified via e-mail when that offer appears, and you can review it to accept or reject our offer instantly.
If you accept the offer, your payment will be sent in less than 24 hours via your preferred payment method. We can pay instantly online via Paypal, or send a check through the mail if you prefer. If you reject the offer, we'll package up your jewelry and valuables and mail them back safely via FedEx at absolutely no charge to you