All On Four Dental Implants Cost
Are you tired of dealing with failing teeth, broken caps and bridges, or missing teeth? Dentures not cutting it? Look no further! Our All-On-4 dental implants are the ideal solution for patients seeking a permanent set of teeth at an affordable cost. Starting at just $19,889 per arch, our procedure includes the surgical placement of 4 dental implants and the delivery of a permanent set of teeth for a single arch.
Saving Time, Money, and Effort
We take pride in our cost-effective approach that allows our patients to save between $4,000 to $6,000 per arch compared to a two-location approach. By completing all the treatment in our office, we eliminate the need for separate fees from multiple doctors, resulting in a lower total cost of treatment.
Customized Options for a Natural Smile
Our all-on-4 procedure offers various options depending on your preferences and needs. We offer full-mouth fixed bridges made of zirconia for strength and durability, as well as hybrid permanent bridges made of acrylic teeth over a titanium framework for control, durability, and repairability. Our custom-made dental bridges are white and natural-looking, perfectly matching your existing teeth.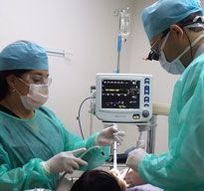 Expertise and Trust
You can trust our team of experienced professionals who have pioneered several All-On-4 techniques, providing better care for our patients. Dr. Max Arocha, our skilled dentist with over 15 years of experience, has performed hundreds of successful dental implant surgeries. We are committed to utilizing only high-grade titanium dental implants that are FDA-approved, ensuring the best quality for our patients.
Faster Recovery with Modern Technology
Thanks to our advanced computerized 3D dental treatment software, our All-On-4 procedure offers a faster recovery time. With minimal invasive surgery and sedation dentistry, you can expect to resume work within two days for most cases. We provide IV sedation and general anesthesia for your comfort during the treatment.
What to Eat and How to Clean after the Procedure
After the All-On-4 surgery, we recommend being on a soft diet for the first 12 weeks of healing. This allows your implants to integrate properly. Lean protein and high fiber foods are essential for a fast recovery. Our detailed instructions will guide you through the healing process and ensure the best results.
Financing Options Available
We understand that dental implant treatment can be a significant investment. That's why we offer flexible financing options through LendingClub, making it possible for patients to receive the treatment they need. With affordable fixed rates and no prepayment penalties, you can break up the cost of treatment into manageable monthly payments.
Trust the All-On-4 Experts
When it comes to All-On-4 dental implants, choose a trusted team that prioritizes your oral health and smile. At our dental practice in Plantation, FL, we provide a world-class level of expertise and care. Whether you're from Fort Lauderdale, Davie, Hollywood, or any surrounding areas, our convenient location and exceptional service make us the top choice for All-On-4 treatment.
Make the decision to transform your smile and regain your confidence. Contact us today at Make You Smile to schedule your complimentary consultation with Dr. Max Arocha and take the first step towards a beautiful and permanent set of teeth with our All-On-4 dental implants.